calendar
Our events are a chance for you to see what goes on behind the scenes. You'll get to mix with some industry professionals, get their advice and an idea about we do.
Keep an eye on this page and our social networks to be the first to find out about upcoming 4Talent events.
Channel 4 Pop up Events
Each year Channel 4 and MyKindaFuture head out on the road across the UK to promote careers in the media industry and to find exciting new talent we call our Rising Stars. We're looking for new and diverse voices that want to bring something different to our industry, who want to shine a light on underrepresented areas or issues. In 2018 we headed to Wolverhampton, Swansea, Liverpool, Dundee, Nottingham and Sunderland.
All the Pop Ups provided industry insights from Channel 4 staff and the opportunity to quiz our current and former apprentices on what it is really like to work at the Channel and how to apply to some of the programmes Channel 4 have to offer for young, diverse people trying to get into the media industry. The C4PopUps are particularly aimed at non degree holders and those looking for their first step into their careers into the media industry.
Applications are now closed.
C4 Pop Up Case Study
Yasmin Ali, Production Trainee at True North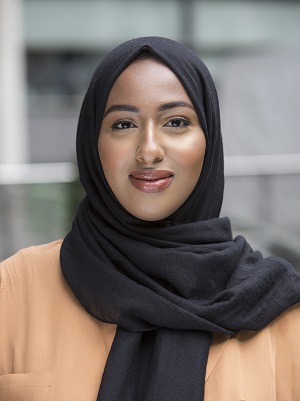 What was your experience of attending a C4 Pop Up?
When I arrived at the C4 Pop Up, I didn't realise that it'd be the start of my career in TV. I didn't know what to expect but I was pleasantly surprised to see masses of diverse, young, motivated individuals at the venue. On the day, we were split into teams and tasked to create a film in response to Channel 4's Paralympics 'Superhuman' campaign, using just an iPad and a microphone. I decided to take the plunge and volunteer as the director, despite having never directed a short film. The day was full of energy and high spirits as all the teams scrambled around Liverpool to get the best shots. Our team's film ended up being one of the winning films and I was awarded a 'Rising Star' award, so I got to do work experience at Channel 4 HQ a few weeks later. I was so happy as I was in my final months of completing my undergraduate degree, so having that opportunity was really exciting.
At the C4 Pop Up, I was introduced to the various initiatives that 4Talent offers and their dedication to finding fresh talent from across the nations and regions. It was there that I also found out about the Production Training Scheme which I am doing now. After being at the pop up day, I decided that Channel 4 was the place for me. I had looked at other schemes offered by other companies and broadcasters, but they felt somewhat exclusive. The pop up showed me that Channel 4 was a fun, creative environment that welcomed, and valued, people from all backgrounds and took the time to get to know and nurture their applicants.
What is being on the Production Training Scheme giving you that you would have had without it?
I am currently on the Channel 4 Production Training scheme, working at True North Productions in Leeds as a production researcher.
To put it simply, the Production Training Scheme has given me opportunity. The TV industry is notoriously hard to get into. I was previously unsuccessful in even securing a week's work experience let alone a full-time job at a hugely successful company. The scheme is shaking up the TV industry by training people from BAME, disabled, LGBTQ+ and underrepresented backgrounds to be able to access such an established institution.
Four months in, and I have already worked on a new consumer show as well as a long-running daytime series. I have worked on location and in a studio, recorded voiceovers, transcribed post production scripts, done casting and location scouting. And, I gained my first TV credit as a Researcher after just a month at my company!
The Production Training Scheme also gives me the flexibility to be able to work out what I like and don't like. My company makes lots of different programs from children's and daytime TV to lifestyle shows and hard-hitting documentaries, so being able to spend a year here and rotate around the productions is amazing.
The support that Channel 4 offers its trainees is incredible. You can tell that there is a genuine interest, and care, in the development of our careers. The staff are so welcoming and are always available should we need anything. Furthermore, going down to the Channel 4 headquarters once a month for training and being able to meet with fellow trainees to debrief about the month is something that is so unique to the scheme. The training sessions are led by industry professionals, so I always come away with fantastic skills, advice, lessons and great industry connections. As well as this, the comradery that the trainees have built through training sessions cannot be replicated. I've not only met talented individuals that I can call my colleagues, but I can now call them my friends.
Pop-up event in Cardiff
This is the video of the 4Talent pop-up event which took place in Cardiff.
Pop-up event in East London
This is the video of the 4Talent pop-up event which took place in East London
Pop-up event in Belfast
This is the video of the 4Talent pop-up event which took place in Belfast.
Our events at Channel 4
We host a programme of events throughout the year. These are aimed at people who are eager to know more about the industry and how to build a career within it. These might be held in conjunction with one of our partners, or have a focus on a particular show or director. Whatever the format and focus, each will offer an insight into the world of Channel 4.