calendar
One department, 14-24 months, and a Level 3 or 4 qualification in a related subject at the end of it. You'll learn who's who, what's what and where your department sits in the overall scheme of things. A range of in-depth projects will immerse you in the detail and count towards your qualification. We're not looking for specific qualifications, but you will need to impress us with your passion for your chosen area and have the potential to stand out from the crowd.
Where they'll be
Not long to wait! Applications will be open and further details will be available on Monday, 26th April for the following business areas;
All4 Product Marketing Apprentice - London

Advertising, Research and Development Apprentice - London

Advertising, Research and Development Apprentice - Bristol

Learning & Development Apprentice - London
Talent Team Apprentice - London
People Assistant Apprentice - London
Content Management Apprentice - London
Sales Operations Apprentice - London
Commercial Events Apprentice - London
Daytime and Features Commissioning Apprentice - Glasgow
Agency Sales Apprentice - London
Audience Research and Insight Apprentice - London
What to do next
Applications will open on the 26th April
All you have to do is convince us why you're right for us and we're right for you. If you're successful we'll invite you to an assessment day. It's a chance for us to get to know each other and for you to learn more about what's on offer. There'll be a presentation from us, some team working tasks and a one-to-one interview with your chosen department.
*If you're unable to make an online application please contact the team for some help at 4Skills@Channel4.co.uk
We are a Disability Confident employer. We will offer all candidates who declare a disability AND meet our minimum eligibility criteria a place at one of our assessment days. For more information please visit our support page.
Applications open on Monday
26 April
Apprenticeship starts
27 September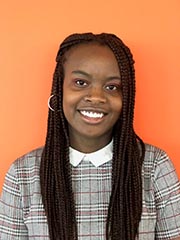 Sharon
Agency Sales Apprentice
Before I joined Channel 4 I was a Customer Service Advisor at a Student Accommodation office, but I knew deep down I wanted to work in TV and be part of something creative.
In 2017 I went to the 4Talent Manchester Pop Up. The event turned out to be really educational, with plenty of practical stuff to get involved in! I met lots of people from Channel 4 all working in different departments. I was worried my lack of media experience would hinder the process, but I realised this wasn't a problem after all. Everyone was supportive and took their time to speak to me about career plans. I also received a 'Rising Star' Certificate in Advertising which was AWESOME! I was really proud.
In 2018 I applied for work experience at Channel 4 and was successful with my application. I then had the pleasure to work in the Manchester Office shadowing Airtime, Trading and Partnerships for the week which was a fantastic experience.
A year after the work experience, I applied for an apprenticeship in the Manchester office which I was successful at securing and I was very excited to join the team. They were very supportive and welcoming when I attended the work experience so I was looking forward to joining the team once again.
Without the help of 4Talent and work experiences offered, I genuinely don't know how I would have got my foot in the door. Working in TV has always been a passion of mine and an area of work I have wanted to explore.
I am so happy in my current job role in the Airtime team. Every day is so different, thrilling and I'm growing each day! My prouder moment so far has been taking part in the Apprentice Show which took place in Leeds at the Launch Party and interviewing Charles Gurassa! I couldn't ask for anything better I'm so proud to work for Channel 4!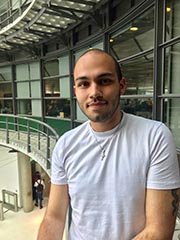 Luke
Commissioning Apprentice
Prior to my apprenticeship I was studying for my A-Levels and expected to go to university and do the classic route into the workplace. This apprenticeship has opened doors into the industry I never thought would be possible.
I took part in the Broadcast Production Assistant apprenticeship and was based within the Factual Commissioning team. I was given some amazing opportunities during my apprenticeship, like working on shows such as First Dates Hotel and The Dog House. My proudest moment was seeing my name on the telly for The Dog House, after all the hard work it was gratifying to see, even for a solid 3 seconds, my name on the end of a programme. 4Talent is an amazing path into the TV industry as there are countless opportunities beyond just your job and the training. The people and connections I've made on this journey are amazing and invaluable and I'm very excited for what's to come in the future.
Latest Tweets @4Talent
14 Apr RT @BeyondBrontes: Beyond Brontës 2021 is now live! 👏 If you're aged 18-24, based in the Leeds City Region, and are desperate to get into t…
12 Apr Are you ready? Only 2 weeks to go until we launch our new Apprenticeship opportunities across Channel4. Keep an ey… https://t.co/sgHFiXn3vL
Follow us